KEY STAFF
Executive Headteacher, mandy wilton

Mandy is the Executive Headteacher with responsibility for the Trusts Special Schools and Alternative Provision. She has worked in the education sector for over 25 years, 20 of which have been in the Specialist and AP sector.
Mandy has experience of school leadership in a range of contexts this includes Headship, Deputy Headship, SENCO and Assistant Headteacher for Inclusion.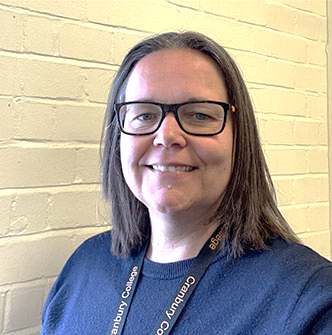 As Headteacher of Cranbury College, Mandy has led the college rapidly from an OFSTED 'Requires Improvement Grade' (when she first joined) in 2016 to an OFSTED category of 'Good' at the last inspection in February 2018.
As a senior leader in Education, Mandy has supported schools including those in special measures through her work as a senior officer in several local authorities. This includes working as a SEN Consultant in the London Borough of Redbridge and Head of SEN and Inclusion in Bracknell Forest. In the latter role particularly, Mandy was involved in School Improvement and led on the opening of a new 52 place Specialist Autism resource. Mandy was also involved in the project team for the application and development of a new Secondary Free School in the borough.
Head of school, Simon Lovelock

Simon is the Head of School at Cranbury College.
Simon has worked in education for 20 years. Having successfully completed his English PGCE at Reading University, he has held a wide range of school leadership roles including: NQT Mentor, Acting SENCO, Senior Teacher and Leader of Inclusion at Little Heath School.
In his previous role as Deputy Headteacher of Cranbury College, Simon has worked alongside Headteacher Mandy Wilton to help lead the school rapidly from an Ofsted 'RI' grade in 2016, to an Ofsted category of 'Good' at the most recent inspection in 2018.
In his time at Cranbury College, Simon has developed strong partnership links with mainstream schools across Reading and surrounding areas. Simon represents Cranbury College at Local Authority Pupil Admissions Meetings and is the college lead practitioner in support of the BFfC 'Preventing Exclusion Project'.
Primary Behaviour Manager, Sue walker

Assistant headteacher, Charlotte baggley

Assistant Headteacher — Personal Development, Behaviour & Wellbeing
Assistant headteacher, Julia bray

Assistant Headteacher — Outcomes, Curriculum & Standards
Julia has worked within the education system for 10 years which initially began as a Physical Education Teacher.
Having successfully completed her Physical Education QTS (BaHons) at Chichester University, Julia has been able to use Sport as her vehicle to engage students with a range of SEN and behavioural needs.
Her experience has ranged from teaching children from the age of 5, up until 18 years of age. She has worked within the mainstream sector, as well as an SEMH setting and a ASD setting.
Julia has carried out roles within Curriculum management, as well as Pastoral management. These leadership roles include; NQT Mentor, Head of Year, Head of Department and Quality Nominee.